IndependenceIT CWS
Workspace Automation
Beyond the desktop: deploy complete workspaces in the cloud.
The bring-your-own-device revolution (BYOD), ubiquitous high-speed connectivity and an increasingly mobile workforce are causing companies to look to the cloud for workspace, application and desktop enablement. Now, companies can leverage the economic and control benefits of scalable cloud architecture.
IndependenceIT's Cloud Workspace Suite an integrated workspace automation software platform that manages workspaces, applications, and desktops as a service to users anywhere, anytime and on any device. Cloud Workspace Suite allows IT departments, service providers, and Independent Software Vendors (ISVs) to easily provision, manage and monitor complete workspaces in the cloud. Users can access Windows desktops, business and productivity applications, and complete corporate IT systems – all without compromising security, performance or control.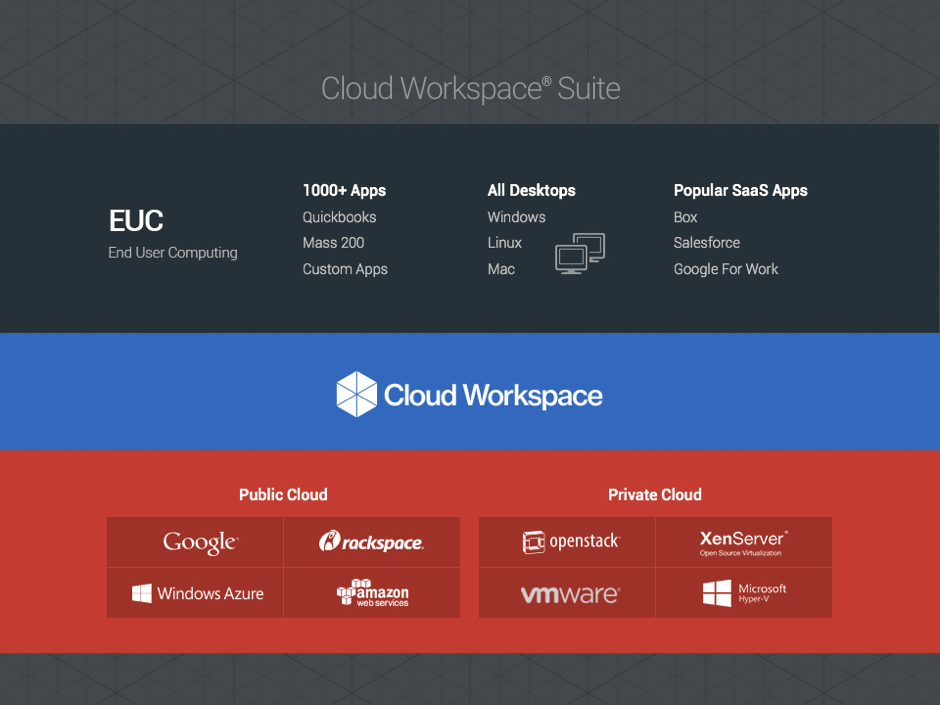 IT Departments
Rapidly deploy applications and desktops and execute frequently performed user administration and support tasks with intuitive single-pane-of-glass, Web administration tools and easy installation of over 1,000 business applications plus popular SaaS applications. Cloud Workspace Suite's security architecture provides comprehensive auditability.
Service Providers and ISV's
Leverage our powerful API along with "bring your own cloud" infrastructure compatibility, to allow for scalable, extensible solutions. Our partner toolkit includes white-label capabilities and robust sales and technical training
End Users
Enjoy a seamless, fully featured Web-based workspace through a high-performance HTML5 client and range of mobile apps, while continuing to use the applications you know well.